Description
This innovative drawing projector helps young children train and develop their sketching skills. It's a fun toy that delivers skill. education. and creative enjoyment.
Children candraw according to the pattern projected by the projector on the table or drawing book
Includesthreeprojection slides. Each slide has eight different designs (24 designs in total)
With musicto encourage children to continue drawing for longer
Developscolour perception and the ability to imagineand increases a child's interest in painting
Train your child to useeye-hand-mind coordination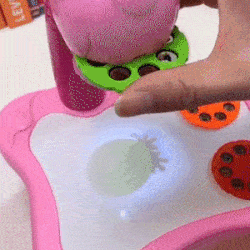 The projection kit makes a great set of activities for children from 2 to 9 years old.DurableABS components arenon-toxic. haveno sharp edges. and arestrong enoughto be handled by children. It is easy to use. This kit will be thebest art teacher for your child!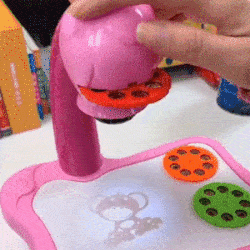 The projected image is well defined andclearly visible. Kids will easily draw the lines on top of the projection. and they will also quickly learn how to operate the projector. You can load the projector with one of the included projector reels that holdmultiple pre-made images. Just turn the disc to switch to a new image.
Amazing Fun Toy Your Kids Will Love For Christmas!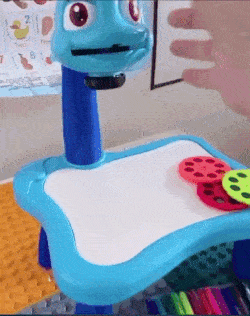 Material:ABS
Net Weight:461.4 g
Dimensions:33.5 x 31 x 8.5 cm
Power Source:3x AAA Batteries (not included)
Package Inclusion/s:1 Drawing book. 3 Lantern slides with 24 patterns. 12 water pen